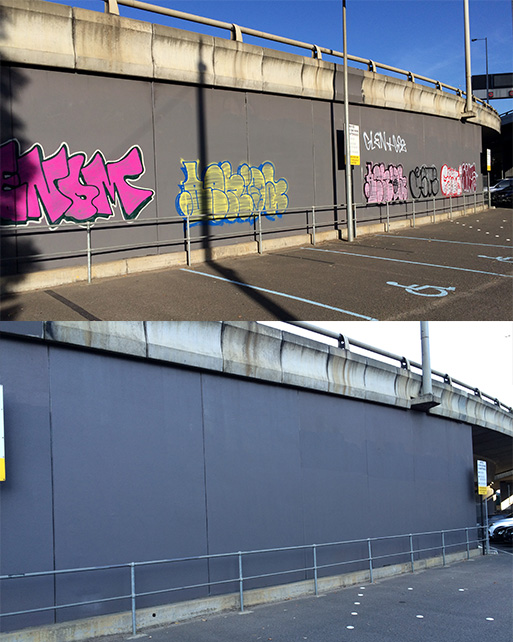 Keep the Costs of Graffiti Removal Down with an Anti Graffiti Protection Paint Coating for Your Melbourne Building
If your business has been hit by graffiti artists before, then you have probably wondered about anti graffiti protection options in Melbourne. At Graffiti Wipeout, we can help you find an optimal solution.
Statistics indicate that the annual cost of graffiti removal totals around $1.5 billion in Australia alone. Unfortunately, the graffiti problem in Melbourne is quite pronounced. In 2013, a gang of Melbourne graffiti artists reportedly caused $182,000 in damage in just two nights.
If you own a business in Melbourne, you need to be conscious of the risks that graffiti can pose. Graffiti is often ugly and crude. It can deter customers from visiting your business, hurting your brand even though your business had no role in creating the graffiti. For many people, graffiti reduces the perception of safety—obviously not something you want to be associated with your business.
Removing graffiti, meanwhile, can be a costly proposition—one that involves scrubbing paint off walls and repainting the exterior of your business. Worst of all, there is no guarantee after you remove the graffiti that vandals won't come back and tag your building again. What you need is some form of anti graffiti protection for your Melbourne business.
Graffiti Wipeout: Your Provider for Anti Graffiti Paint in Melbourne
If you are tired of paying to clean, paint, and restore your walls, only to have them repeatedly vandalised by graffiti artists, then it's time to take a stand. At Graffiti Wipeout, we help you defend your business with anti graffiti paint in Melbourne.
Putting an anti graffiti coating on the walls of your Melbourne business can do wonders to reduce the costs and overall hassle of graffiti vandalism. By treating the surfaces of your exterior walls with an anti graffiti coating, you create an environment where graffiti won't stick—literally. At Graffiti Wipeout, our anti graffiti coating paint prevents graffiti paint from bonding the with the surface of your walls.
The idea here is that most usual deterrents won't stop graffiti gangs. These vandals disregard signs, jump fences and often know how to avoid having their faces caught on camera. The best defence against graffiti, then, is an anti graffiti coating for your Melbourne business. By preventing graffiti paint from forming a permanent adhesion to the substrate of the walls, you can make clean-up much easier and much less expensive.
Indeed, Graffiti Wipeout's anti graffiti paint enables graffiti removal with softer solvents or even water alone. Typically, business owners will be able to handle the cleaning process themselves—instead of hiring expensive professionals to handle the work. The result is a faster, more thorough and less expensive graffiti removal.
Start Protecting Your Business from Graffiti Today
Don't let graffiti convince customers that your business isn't 'safe.' At Graffiti Wipeout, we can help you keep the walls of your property clean and welcoming. To learn more about us and our anti graffiti paint services in Melbourne, give us a call on 1300 889 831. Read More
Anti Graffiti Coating Treatment
Falling victim to graffiti is a terrible misfortune. It can make your property unattractive which could turn away potential customers, visitors or guests. The graffiti can also be very costly to remove depending on the materials that were used and the company that you decide to collaborate with. In some extreme circumstances, the graffiti can also cause a halt to your business.
Removing the graffiti and getting your building or property back to proper working order is an important priority and it will be on the top of your list. But what if we told you that you could take action today that would make that future process cheaper, faster and more effective?
Anti-graffiti treatment is a powerful way to minimise the effects of graffiti. In addition, the installation of artificial hedges or vertical gardens (a full range supplied by our team) is also a great deterrent of graffiti vandalism.
Graffiti Wipeout: The Best Anti-Graffiti Coaters Available
In 1991 our founder saw an intriguing newspaper article which covered an innovative new solution to graffiti that had been developed in Sweden. This particular solution was all-natural which made it a particularly attractive solution for removing graffiti without damaging the surface it was made upon.
Our founder's interest had been piqued. Soon after reading the article they travelled to Sweden to secure the necessary training to begin using the material and in the process they secured exclusive distribution rights for our business.
This material offers a protective coating that means if graffiti is applied in the future, its removal is much simpler and more effective than if the graffiti was applied directly on the surface. Many buildings and businesses throughout Australia are forward-thinking and they have decided to work with us to apply this solution. This means that if they do fall victim to graffiti the removal process is simpler, cheaper and much faster.
But our customers don't work with us just for our solution: they also know that when they work with Graffiti Wipeout they can expect the highest level of service possible and the absolute best results in the business.
Here is why people decide to work with us.
A Range of Services
In addition to anti-graffiti coatings, we offer a wide range of services (such as the installation of artificial hedges or vertical gardens to deter graffiti attacks) that can fulfil all the needs of our customers. This means that our customers can come to rely on a single provider for all of their needs and this simplifies the process while building an important working relationship where we understand your needs inside and out.
The Best Level of Service
A job isn't well done if it isn't delivered comfortably and efficiently. Our team has the experience and know-how to make sure that all of their work is performed to satisfy the customer. This means that they are timely, courteous and balance speed and efficiency to resolve your problem in the most realistic timeframe possible.
Decades of Experience
The fact we have been around so long is testament to our skill! We have been in the business for 26 years and in this time we have built up a lot of experience and countless relationships with numerous happy customers.
Looking to Protect Yourself from Graffiti? Contact Us Today
Taking steps to protect your property from graffiti today can save you time and money in the future. If you would like to talk to us about taking the next steps or learn more about what we do, feel free to visit our website today.
Our experienced team members pride themselves on providing graffiti removal services including removing, prevention and cleaning. Contact us today for more information.
Read Less