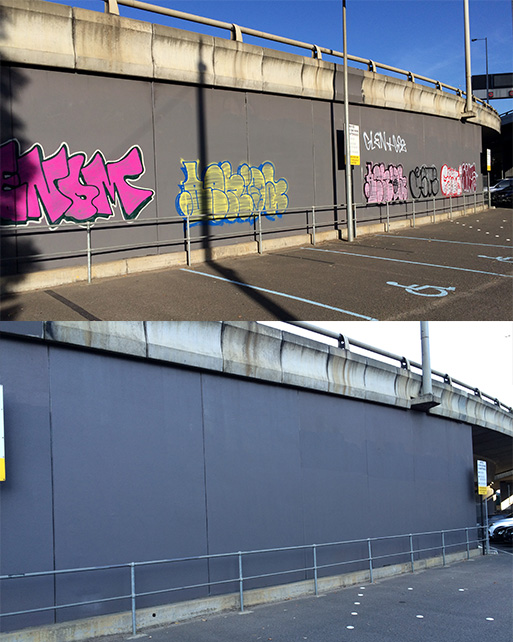 Glass Window Graffiti Removal
Graffiti vandalism is an increasing problem in places like schools where troubled youth can gain easy access to the school premises. It is also a target for rival youth gangs who want their message to be heard by those they are targeting as well as others, as a show of power and to gain a following. Storefront windows and other public areas also often suffer from this menace.
Often people are forced to replace whole glass panes, an exercise that can be expensive for huge display windows. Glass graffiti removal while difficult, is possible and cheaper. In addition, it is a more eco-friendly method of dealing with the problem, as replacing glass constitutes waste.
There are three basic ways glass is vandalised by graffiti perpetrators:
Acid etched graffiti
Painted graffiti
Cheaper and Faster Glass Graffiti Removal
The greatest problem of window or glass graffiti is how expensive and time consuming it is to repair it. Replacing whole panes takes 2-3 working days at the very minimum, going over the recommended 48 hour response time. It creates a bad image and sends a message that the vandalised area is not adequately secured.
This is where we come in. Grafitti Wipe Out are experts in window graffiti removal are able to assist you to repair the following:
Acid etched graffiti
Painted graffiti
Our Window Graffiti Removal Methods
For Acid Etch Graffiti: Perpetrators use hydrofluoric acid with acetone that penetrates the glass. We remove this by neutralizing the crust that is formed on top of the acid etching in the glass, and then finely polish it to leave a smooth surface with no optic distortion.
For Scratched Glass Graffiti: We successively sand the glass down evenly with very fine grit until the scratch has been reached and removed, and light can once again travel through in a straight line.
For Painted Glass Graffiti: We use a petroleum solvent, or chemical paint stripper to dissolve the paint, and then wipe off the residue. Graffiti paint should be removed as early as possible, as the longer it has to dry, the more difficult it will be to remove and the more solvent one will have to use.
We at Graffiti Wipe Out, use careful selection criteria on a case-by-case basis, to decide on the suitability of the removal method and material to be used.
To prevent damage from further attacks such as scratches, gouges and acid etching, we recommend you install a protective window film. This will decrease the ability of the perpetrators to damage your windows and is considered an effective and affordable protection measure.
It can be used over glass in a wide variety of places such as private homes, shops, and restaurants, to name a few. Our expertise in the area of glass graffiti removal can assist you to repair what has been damaged, or to protect from damage.
To get an estimation, please send us an enquiry online, or give us a call on 1300 889 831.
Our experienced team members pride themselves on providing graffiti removal services including removing, prevention and cleaning. Contact us today for more information.