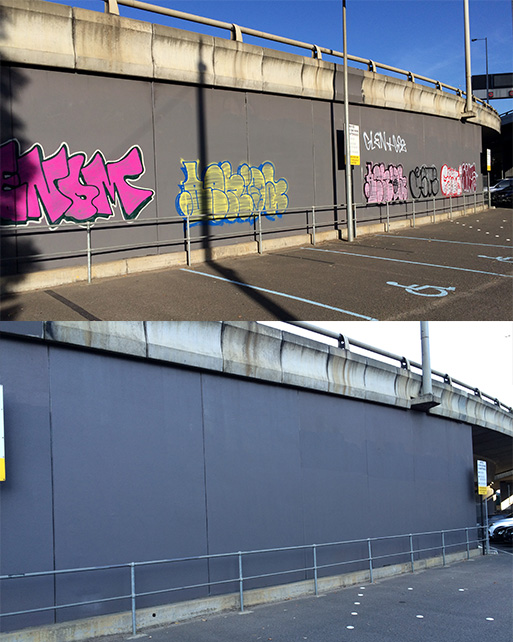 Articles
Graffiti Removal the Melbourne City Council Can Count On
Graffiti involves the defacing of any property, either public or private, without permission. Frequently, graffiti may contain offensive words or images, necessitating a quick response. With Graffiti Wipeout, we provide graffiti removal ...read more.
Reasons to Call for Graffiti Removal in Melbourne for Your Business
Graffiti is a form of vandalism that can cost business owners dearly. Not only is there the cost of removal to take into consideration, but also the fact that the offensive words and images often contained in graffiti will likely discourage ...read more.
Get Graffiti Removal for all Werribee Properties
Graffiti is a nasty form of vandalism that defaces hundreds of buildings across Australia each year, including both public and private premises. Not only is graffiti unsightly, but its presence also encourages future acts of vandalism ...read more.
Find a Solution for Vandalism with Graffiti Removal for the City of Casey
All forms of vandalism, including graffiti, can be very upsetting for business owners and homeowners alike. No one likes to find out that their property has been defaced, and those living nearby may feel less safe or be concerned that they will ...read more.
Experience the Graffiti Wipeout Advantage with Graffiti Remove in Monash
While some consider Graffiti an urban art form, the act still retains a reputation for being a nuisance. For owners or managers of a building where someone used the structure for a canvas, graffiti is nothing more than an expensive ...read more.
The Best way to Handle Graffiti Removal in Kingston
It's no secret that graffiti hurts communities and businesses in many ways. When you see graffiti in an area, the local merchants suffer because graffiti creates a reduction of customer visits and profits. The overall community suffers as the ...read more.
Rely on Industry Experience for Efficient Graffiti Removal in Frankston
Most people will agree that a building or structure with an unkempt exterior suggests a sense of indifference and appeals to criminals and those wishing to deface property. One example of a shoddy exterior includes graffiti. These ...read more.
Take Back What's Yours and Hire Professional Graffiti Removal in Dandenong
There are those who consider the action of defacing items, structures, and buildings with simple and sometimes colourful markings as a form of art. In fact, what is commonly known as graffiti can sometimes be seen displayed in museums and ...read more.
Keep the Costs of Graffiti Removal Down with an Anti Graffiti Protection Paint Coating for Your Melbourne Building
If your business has been hit by graffiti artists before, then you have probably wondered about anti graffiti protection options in Melbourne. At Graffiti Wipeout, we can help you find an optimal solution ...read more.
Keep Your Building Clean of Graffiti and Other Stains with Commercial High Pressure Cleaning and Chemical Paint Stripping in Melbourne
Do you have a graffiti problem? If so, Graffiti Wipeout can help with high pressure cleaning and commercial paint stripping in Melbourne. If a vandal has recently tagged the wall of your business, your best strategy ...read more.
Keep Your Building Looking Bright and Clean, with High Pressure Washing and Cleaning Services in Melbourne
When you work in the same building every day for years in a row, it can be easy to start ignoring your surroundings. Next time to go to work, though, try to remember to look around. Specifically, when you come up to your building, what do ...read more.
Protect Your Business from Ugly and Profane Graffiti with Graffiti Prevention Coating Products in Melbourne
When done the right way, street art can be beautiful and profound. Some businesses even use it as part of their marketing or branding strategies. However, to qualify as 'being done the right way,' street art must be done with the consent ...read more.
Need a Graffiti Cleaning Specialist in Melbourne? Cleaning Service Graffiti Wipeout Can Help
Graffiti vandals often consider their actions harmless. However, the reality is that graffiti hurts everyone: businesses, homeowners, schools, and entire communities. Furthermore, those who practice it are taking risks with their safety ...read more.
Chemical, Industrial Spray Paint Stripping in Melbourne by Graffiti Wipeout How to Prevent Graffiti in the First Place
If it seems graffiti is everywhere you turn, you're not imagining it. It's the most common type of vandalism in Melbourne and many other places. If you find graffiti on your residential or industrial property, the best way to handle it is ...read more.
How an Artificial Hedge Wall Can Help Prevent Graffiti and Where to Buy Screening and Panels in Melbourne
Artificial hedge screening in Melbourne does more than just look great. In urban areas, this exterior décor also serves another purpose: preventing graffiti vandalism. Businesses, apartments, schools, and other buildings with flat surfaces ...read more.